As the world grapples with the ongoing virus crisis, personal protective equipment (PPE) has become an essential commodity for healthcare personnel and the general public alike. China, as one of the world's leading manufacturers of PPE, has seen a surge in demand for its products. With a projected growth rate of 8.6% from 2020 to 2023, the PPE market in China is expected to reach a value of US$24.8 billion by the end of 2023. Are you planning to import excellent PPE products from China's top personal protective equipment (PPE) manufacturers and suppliers? In this article, we will introduce Top 5 PPE Manufacturers in China, which are voted by their capacity, certifications, export volume and other considerations.
Baymro Safety China
Baymro Safety China Limited start PPE supplier to MRO supplier in 2005. we bring our importers/distributors reliable PPE/MRO items and moderate prices.Baymro Safety China offers Personal Protective Equipment services to meet the needs of demanding clients worldwide. BAYMRO is a leading provider of PPE services, with more than ten years of extensive and diversified experience. BAYMRO offers flexible and turn-key solutions that enable clients to delegate vital project tasks.
Main Products:
PPE
Industrial safety shoes
Safety rain boots
Rainwear
Reflective coverall
ANBU SAFETY
Anbusafety has been manufacturing personal protective equipment (PPE ) for 12 years, producing safety shoes, safety coveralls, safety helmets, safety gloves, safety glasses, face masks, safety harnesses, ear muffs and ear plugs.
Main Products:
Safety Shoes & Gumboots
Safety Helmet and hard hat
Eye Protection (Goggles)
Safety Mask & Gas Masks
Hearing Protection ( earmuff)
Safety Clothing& Uniforms
Safety Harness and belt
Leather Working Gloves
Safety Tools and accessories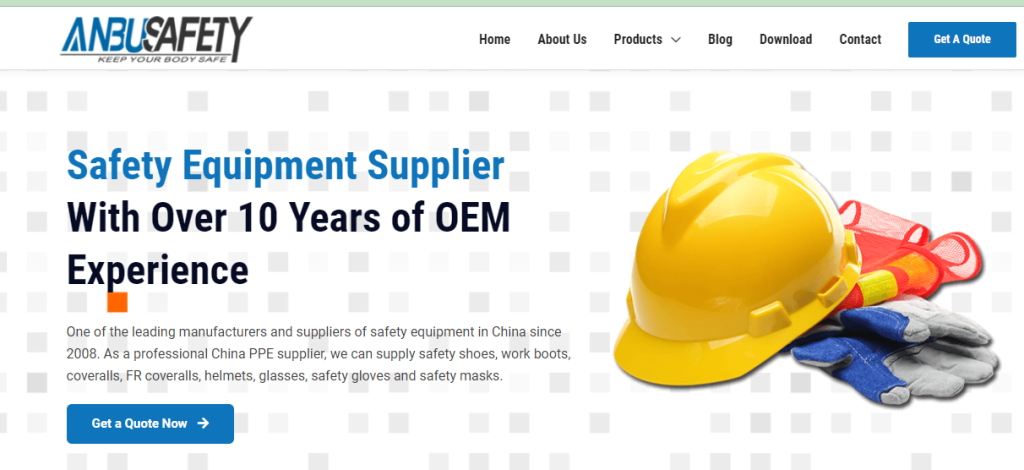 Hubei Wanli Protective Products Co., Ltd
Hubei Wanli Protective Products Co., Ltd. was established in 1998. We value R&D, production and sales as a whole to provide solutions in the fields of medical protection, industrial protection and non-woven fabrics. We are a big group of 1000 employees, including 30 technical R&D personnel, 50 business personnel and 50 senior professional titles.
Hubei Wanli operates multiple dust-free production workshop totaled 150,000 square meters (1.5 million square feet). It holds international trademark "XIAN WANLI" and domestic trademarks "Xian wanli", "Aishangshimei" and "Yuechen", and 20 product patents. The company strictly implements ISO 13485, ISO 9001 quality management system standards and ISO 14001 environmental management system standards, and has passed the EU CE, US Nelson and UK BSI quality inspection certificates, as well as the Sedex international human rights certificate. Products are exported to more than 80 countries in the world.
Main Products:
Body Protection
Hand Protection
Head Protection
Respiratory Protection
Foot Protection
Arm Protection
Non woven Fabric
HEFEI HAOXIN PROTECTIVE TECHNOLOGY CO., LTD.
Hefei Haoxin is a leading manufacturer of quality personal protection products (PPE). Their experience supplying the industrial safety, janitorial, food service, food processing and medical markets extends worldwide.
Main Products:
DISPOSABLE COVERALL
SAFETY VEST
HEAD COVERS
DISPOSABLE FACE MASK
POLYETHYLENE GLOVE
VINYL GLOVE
NITRILE GLOVE
Guangzhou Yangyue Safety Equipment Co., Ltd specializes in PPE (personal protective equipment) research,development,production,distribution and export. Products cover PPE, environmental safety, emergency rescue, public fire protection and so on. They also provide practical solutions to meet all customers' needs according to their different worksites.
Main Products:
Head Protection
Face & Eye Protection
Hearing Protection
Respiratory Protection
Foot Protection
Body Protection
Fall Protection
Environmental Safety
Emergency Rescue
Public Fire Protection