For the coverall to meet CE standard, all coverall styles can print your own logo on the clothing and packing, with different colors available.
Leading Coverall Manufacturer
We are the leading protective coverall manufacturer and supplier in China, our safety clothing used primarily in most of the industries, agricultural, chemical, laboratory, cleaning etc . Our own safety coverall factory can produce different types of protective clothing, such as protective coveralls, cool suits, flame retardant coveralls, clean room suit, boiler suits, painters suit, chemical suit and more. The products can be tailor-made to meet the requirement of CE Type 3, 4, 5, 6 garments.
Coverall Suits
As a leading coverall manufacturer and supplier of PPE in China. Our company provides different types of protective workwear suits to clients. You can select the style directly from our website. In addition, we can do OEM services for you if you have your own style of coverall.
Application of disposable coveralls
- Used as personal protective equipment
- Widely used in the petro chemical industry
- Used in the construction industry
- Widely used in the food industry
- Widely used in the medical industry
- Widely used in the welding industry
- Widely used in the painting industry
- Widely used in the agricultural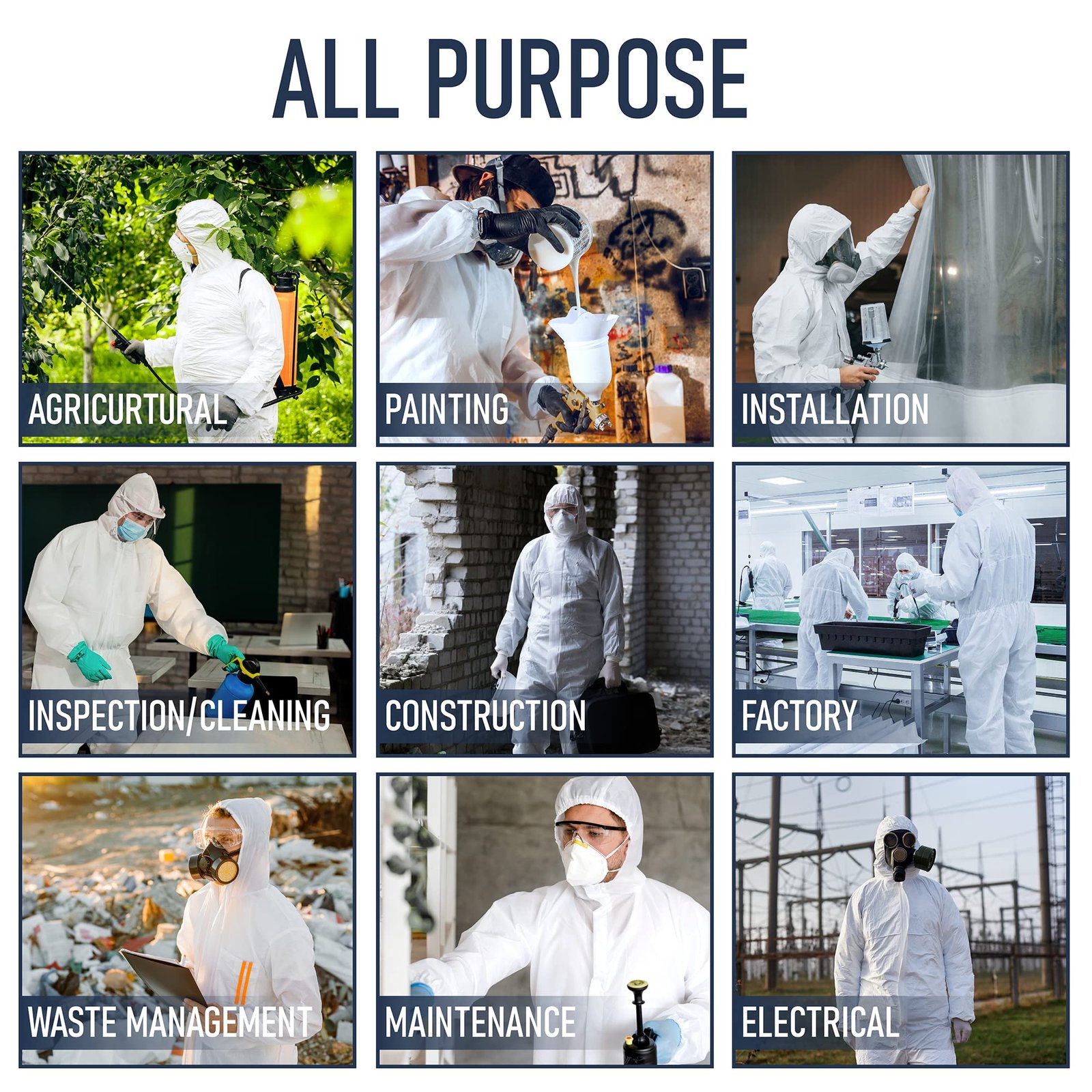 Our Disposable PPE Factory Providing OEM & ODM Protective Products Service From Our Clients Through Ongoing & Innovation.
I have worked with Hubei Wanli company for the past a few years, and I am glad I selected them from the beginning. My business has never been affected by quality problems, their ppe suit are really good.
We accidentally found Hubei Wanli on Google and bought the clean room bunny suit and respirators for our employees at a lower price than others. This allowed us to expand our business within four years.
Easy communication, very professional, excellent knowledge of what we needed and fast and profesional on samples sent. We will full scale test product and see forward to a long time partnership on this product.
Frequently Asked Questions
Most frequent questions and answers
What PPE Items Can You Supply?
A leading supplier of ppe products in China, we offer protective coveralls, isolation gowns, hospital gowns, surgical masks, respirator masks, exam gloves, medical bed sheet, chemical protective aprons, disposable caps, disposable shoe covers etc.
You are a safety supply company in China, right?
Yes, we have been a leading industrial PPE products company in China since 1998. We are an old B2B foreign trade enterprise, we have exported different PPE equipment overseas, so you can count on us as one of your PPE partner.
Are you a safety equipment manufacturer or trader?
We are the manufacturer of industrial ppe. Our protective products factory located in Xiantao city, Hubei Province. Our safety products company has been exporting personal safety PPE equipment overseas for more than 20 years.
Are you do small orders of PPE wholesale?
As a leading PPE manufacturer & supplier in China, our MOQs are usually high. However, we can act as a wholesaler for some PPE in stocks. We will have PPE items in stock some time. This will enable us to supply you as a small order.  
Are you also a supplier of medical PPE?
Yes, Hubei Wanli company also supplies Medical PPE equipment. We are a manufacturer of medical PPE kits. We have our own medical PPE kit factory that produces different types of FFP2 masks, hospital gowns, patient gowns, medical bed sheet, surgical caps, latex gloves and face shield, etc.
What are the order payment term options?
Accepted Payment Currency:USD,EUR,CNY;
Accepted Payment Type: T/T,L/C,D/P D/A,Cash;
What is the PPE order delivery time?
For protective products items, order delivery time depend on the quantity. It usually needs 30-40 days after you place your order to be delivered. If you have special time request pls tell us.  
If you do OEM services for safety products?
Yes, We primarily provide OEM services for safety PPE orders. if your order quantity meet our MOQ, we can add your own logo and brand to the different PPE items. The logo is free if your quantity is large. 
Can we visit your protective clothing factory in China?
Of course, we welcome you to visit our PPE factory in China. We have different factories for different protective equipments. You need to book in advance with us. We will pick you up from the airport.  
Do you offer free samples?
Yes, We can offer free protective products for you, you just need to pay for the shipping cost. Once you have placed the order with us, we will return the shipping cost from you.
Have A New Purchase Plan?
We are a trustful personal protective equipment supplier and manufacturer in China, we have exported different safety coveralls to more than 80 countries, including the Western Europe,Southern Europe,Northern Europe,North America,South America,Eastern Europe,Mid East,Southeast Asia,Central America,South Asia,Eastern Asia,Africa,Oceania.
We specialize in OEM services for PPE clothing. such as disposable coveralls, isolation gowns, lab coats, face masks, respirators, gloves, caps, shoe covers, lab coats and standard medical scrubs. we can customize your logo to the protective clothing. But we have a MOQ for each order, for more please contact our sales team.
We have provide answers to some of the frequently asked questions about disposable coveralls our customers put to us.
If you don't find the answers you are looking for, just send an email to info@hbwanli.com and our Customer Service Team will be pleased to help you. You may also contact us by mobile at +86 158 2799 9549 or chat with us. "However you get in touch our team will be happy to hear from you and will do their best to answer your questions."
1. What is a disposable protective suit?
Disposable protective suit is a one-time use garment designed to provide protection against harmful substances, such as chemicals, viruses, bacteria, and other contaminants.
2. What materials are used in a disposable protective suit?
We can provide all kinds of nonwoven protective coveralls, including polypropylene coveralls, SMS coveralls, Microporous coveralls, and fr disposable coveralls.
3.How do you put on a disposable protective suit?
Put on gloves and a face mask before starting. Then step into the suit and pull it up to your hips. Insert your arms through the sleeves and secure any fasteners at the wrists and ankles. Lastly, zip up the front of the suit.
4.How long can I wear a disposable protective suit?
Disposable protective suits are designed for single-use only and should be worn for no longer than the recommended time frame by the manufacturer.
5.How do I dispose of a used disposable protective suit?
Disposable protective suits should be disposed of properly, according to local regulations. This could involve sealing the used suit in a plastic bag and disposing of it in a designated waste container.
6.Can I reuse a disposable protective suit?
No, disposable protective suits are specifically designed for one-time use only and should not be reused. Attempting to reuse a disposable suit could result in a lack of protection and increased risk of exposure.
7.How should I store my disposable protective suits?
Disposable protective suits should be stored in a cool, dry place away from direct sunlight, moisture, and heat sources.
8.How effective are disposable protective suits in preventing the spread of disease?
Disposable protective suits are designed to provide a barrier between the wearer and potentially harmful substances. However, they are should be used in conjunction with other preventative measures, such as frequent handwashing and social distancing.
9.Do disposable coveralls come with hoods?
Disposable coveralls can come with hoods or without hoods, depending on the specific application and level of protection needed.
10.Are disposable coveralls waterproof?
Some disposable coveralls are designed to be waterproof or resistant to liquids, while others may not provide the same level of protection. It is important to choose the right type of coverall for the specific application.
11.Can I wear disposable coveralls in hot or cold weather?
Disposable coveralls are typically designed to be worn in a wide range of temperatures, but it is best to choose a coverall that is appropriate for the specific climate or environment.
12.How do I choose the right disposable coverall for my needs?
When choosing a disposable coverall, consider the level of protection needed, the specific hazards involved, the size and fit, as well as other factors such as breathability, comfort, and durability.
13.Can I wear a disposable coverall over protective clothing?
Yes, disposable coveralls can be worn over protective clothing for additional protection.
14.What are disposable coveralls used for?
1. Personal protection: Disposable coveralls are commonly used in hospitals and clinics to protect healthcare workers from infectious diseases and other hazardous materials.
2. Manufacturing and industrial: Coveralls are used in manufacturing and industrial settings to protect workers from exposure to chemicals, oils, and other hazardous materials.
3. Construction and renovation: Disposable coveralls are often used in construction and renovation settings to protect workers from dust and debris.
4. Agriculture and farming: Coveralls are used in agriculture and farming to protect workers from exposure to pesticides and other hazardous materials.
5. Automotive and aviation: Coveralls are used in automotive and aviation industries to protect workers from exposure to chemicals, fuels, and other hazardous materials.
15.Can I customize a disposable coverall with my company logo?
Yes, we can offer the option to customize disposable coveralls with a company logo, name, or other branding.
16.Are disposable coveralls breathable?
Most disposable coveralls are made with breathable materials to allow for comfortable wearing over extended periods of time.
17.Can I wear a disposable coverall if I have sensitive skin?
No, disposable coveralls are not meant to be washed or reused.
18.Can I purchase disposable coveralls in bulk?
Yes, many manufacturers offer bulk purchasing options for disposable coveralls.