These Disposable Polyethylene Gloves are an essential item for any workplace or home that requires hygienic handling of items. These Plastic Gloves Disposable are made of high quality Polyethylene material, they are lightweight, comfortable and durable. Strong and made to handle any situation, you'll be in the utmost safety and comfort with a pair of these.
Disposable Plastic Gloves for Food Service are ideal for any setting where frequent, sanitary hand protection is needed. These Disposable Polyethylene Gloves have various applcations and come in different sizes to fit different hand sizes. Buy these gloves today and rest assured that your hands are protected from harmful pathogens that can cause serious diseases.
Provides the convenience of using our Polyethylene Gloves. Use for food prep-Made of durable, hard to penetrate plastic guaranteed to keep your hands dry and protected while preparing or serving meals. Great for food perpetration.
Environmental PE material, non-toxic, hygienic. No rubber, no odor. Large quantity with 100/500 PCS per box. Suitable for all adult size, can be used by both men and women. Also can be used with both left and right hands.
Specifications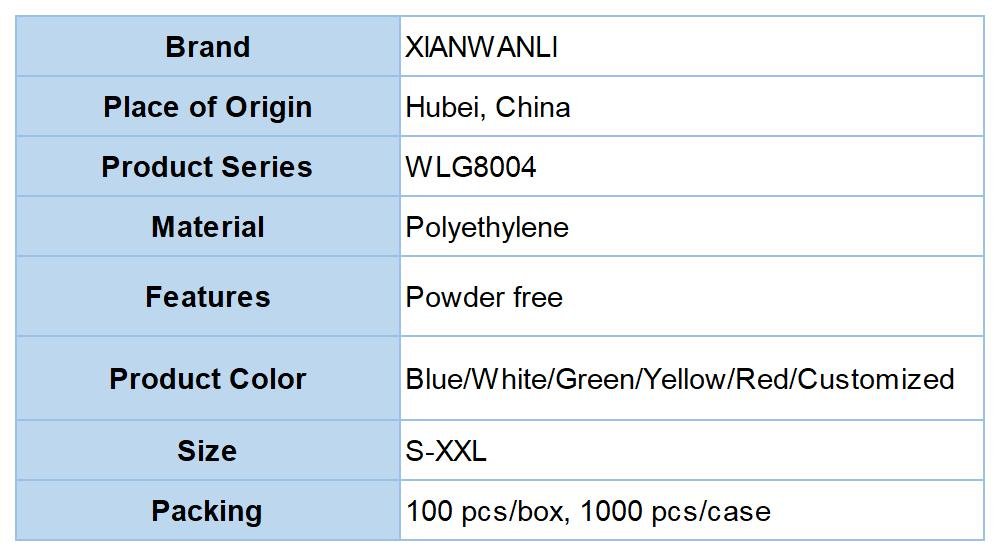 Features
Convenient and lightweight
Waterproof and resistant to chemicals
Built for comfort and a tight, secure fit
Comes in various sizes
Offers maximum protection against contamination
Applications
Food Handling: These gloves are perfect for food handling tasks, preparing fruits and vegetables, and handling uncooked meat products.
Medical and Dental: Provides a barrier between the wearer's skin, clothes and the patient during medical procedures like first aid or identifying wounds.
Cleaning: Cleaning, janitorial and housekeeping personnel can use these gloves to protect their hands from harsh chemicals and cleaning agents.