Disposable coverall, also known as hazmat suit, is an item of personal protective equipment (PPE) designed to cover the whole body and other clothing to protect against dirt or other outside contaminants. Coveralls are one piece and loose fitting for ease of movement, with sleeves, full leggings and often a hood to cover the head.
Coverall Seam Types
The Detail Decides The Whole
The coverall's interfaces, such as the cuffs, zipper, and hood or collar, have been carefully crafted to prevent any leakage. These interfaces are designed to be liquid-tight, providing reliable protection. The cuffs, hood, and collar can be elastic or knitted. 
Sewing coveralls may pose a bit of a challenge, especially when it comes to getting the seams just right. To ensure utmost protection and durability, seam tape is utilized. Yet, it can be quite tricky to apply it to areas where multiple seams intersect, such as the armpit.
XIAN WAN LI has been manufacturing protective coveralls for years, we make sure that workers can have the best protection during their work.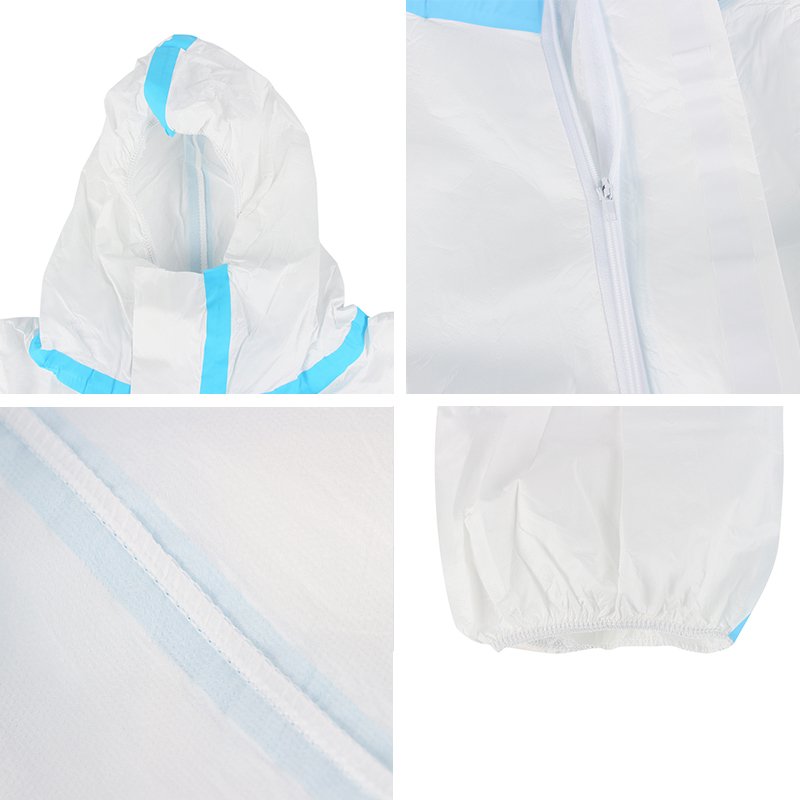 TYPE 1 EN 943-1 Gas tight suits. Suits which are intrinsically sealed against the environment.
TYPE 2 EN 943-1 Non-gas tight suits. Suits which retain a positive internal pressure to prevent ingress of dusts, liquids or vapours.
TYPE 3 EN 14605 Liquid tight suits. Suits which can protect against strong and directional jets of a liquid chemical such as spray from a burst pipe under pressure. Requires a barrier fabric and sealed seams.
TYPE 4 EN 14605 Spray tight suits. Suits can protect against saturation of liquid chemical, where volume of the liquid builds up on the suit forming pools, resulting in rivulets. Requires a barrier fabric and sealed seams.
TYPE 5 EN ISO 13982-1 Dry particle suits. Suits for protection against hazardous dusts and any dry particles.
TYPE 6 EN 13034 Reduced spray suits. Suits for protection against light spray and splashes of liquid chemicals where there is no directional spray or build up of liquid on the suit, but there may be a fine mist of droplets in the atmosphere.
Level A

 protection should be worn when the highest level of respiratory, skin, eye and mucous membrane protection is needed.

Level B

 protection should be selected when the highest level of respiratory protection is needed, but a lesser level of skin and eye protection is needed. Level B protection is the minimum level recommended on initial site entries until the hazards have been further identified and defined by monitoring, sampling, and other reliable methods of analysis, and equipment corresponding with those findings utilized.

Level C

 protection should be selected when the type of airborne substance is known, concentration measured, criteria for using air-purifying respirators met, and skin and eye exposure is unlikely. Periodic monitoring of the air must be performed.

Level D

 protection is primarily a work uniform and is used for nuisance contamination only. It requires only coveralls and safety shoes/boots. Other PPE is based upon the situation (types of gloves, goggles, head covers etc.).